Antminer S7 Specifications
1. Hash Rate: 4.73 TH/s ±5%
2. Power Consumption: 1293 W (at the wall, with AC/DC 93% efficiency, 25C ambient temp)
3. Power Efficiency: 0.25 J/GH (at the wall, with AC/DC 93% efficiency, 25°C ambient temp)
4. Rated Voltage: 12V+5%, should not be less than 12.0V
5. Chip quantity per unit: 135x BM1385
6. Dimensions: 301mm(L)*123mm(W)*155mm(H)
7. Cooling: 2x 12038 fan
8. Operating Temperature: 0 °C to 40 °C
9. Network Connection: Ethernet
10. Default Frequency : 700M
Notes:
Power consumption figures will vary with your PSU's efficiency, the ambient operating temperature and the accuracy of the power meter.
PSU: A power supply unit is not included, and you will need to provide an ATX PSU. There are 3 PCI-e connectors for +12V DC input on each hashing board and all 3 are required. Do not connect more than one PSU to the same hashing board!
We recommend the APW3-12-1600-B2 power supply for use with the Antminer S7. One power supply supports one Antminer S7.
Separate power supply to control board: there is one additional 6pin PCI-e connector on the IO board which must be connected to the PSU to get power. If you use different PSU for hash boards and control board, please make sure to power the hash boards first and the control board only after the hash boards have been powered.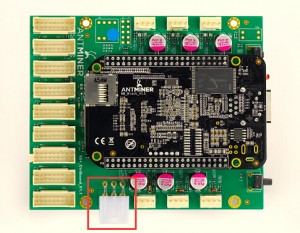 The Antminer S7 is not only our most efficient ever, using less than half the energy per gigahash of the S5, but it is also our most powerful miner to enter mass production (the S5+ had a higher hashrate but was sold on a limited basis). At 0.25 joules per gigahash, this is the most efficient machine available to the bitcoin mining public. In this table you can see the comparison of the different antminers.
The shipment cost is about €20,- all over Europe. The delivery time for your country can be found here.
Antminer S7 Photos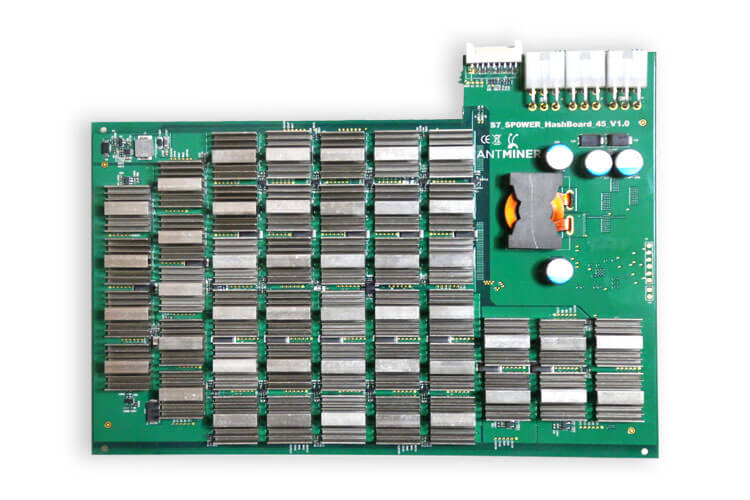 Hashing board with individual heat sinks attached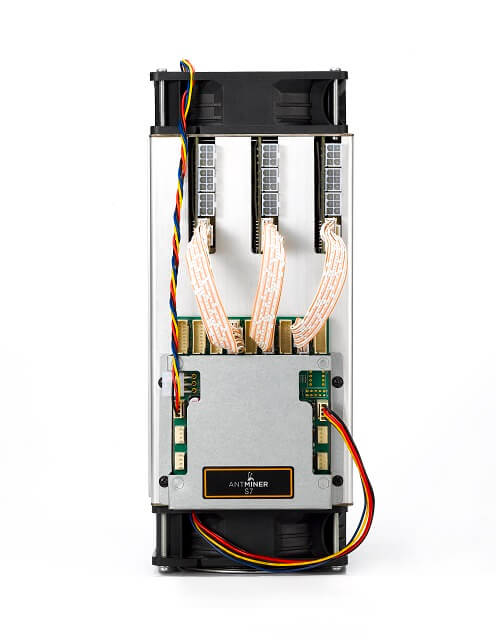 Antminer S7 top view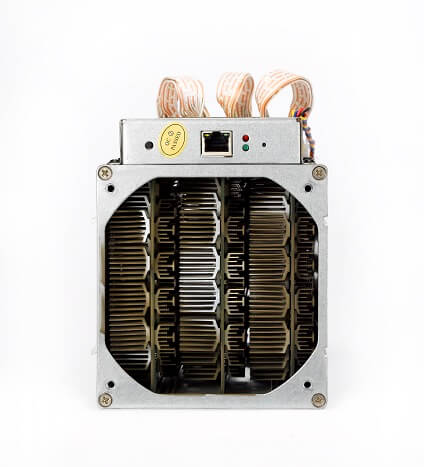 Fan removed, view of heat sink configuration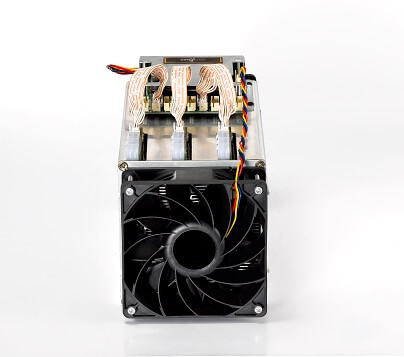 Rear fan view